Remember when I did that big Review Palooza? Here are the last of my cookbooks to review!
This wonderful cookbook opens up with a cliff's notes version of the philosophy's in books like Eat to Live, engine 2 and the McDougall Program: it explains nutrition and the science behind a low fat plant-based diet and how this diet can cure diseases like diabetes. It's also written with a very motivational "I can do it!" tone complete with examples of people who turned their life around.
The 125 recipes are what I consider classically vegetarian -- meaning they are dishes that are inherently vegetarian and are not a replacement/substitute for a traditionally non-vegetarian dish (think "mock tuna"). Most of the recipes are HH-approved, meaning they are fat-free and use wholesome ingredients. I did stumble upon a few that used all purpose (and that's disappointing) and a few that used coconut milk or soy creamer; but 99% of the recipes are wholesome & fat-free (no oil!) making it perfect for my diet and many of yours.
My favorite quality of the book, however, are the "did you know" tips on each page. For example, did you know you could cook quinoa in a rice cooker on the white rice setting? me either. Thx Dr. B!
Don't let the title fool you -- this isn't a cookbook for college students. It's for families looking to save money. The recipes generally serve 4+ and focus on using cheap ingredients like rice and canned goods. A dollar amount per serving is included but these calculations are based on the cost of the ingredient used, i.e. 1 tsp of cinnamon. If you don't have a well-stocked pantry already you'll quickly out spend the estimated cost since you can't just buy 1 tsp of cinnamon. Still, I think it's a great cookbook -- there is a lot of culinary variety and the recipes stick to inexpensive and everyday pantry staples. Robin does cook with oil, however, but there is rarely ever more than 1 tbsp in a non-dessert recipe and I've been able to omit it without compromising flavor.
I've been sitting on this book for far too long -- truth is, I've been waiting for summer. As a precursor, this book is not vegan -- it's vegetarian (several recipes use egg) but there a few vegan and even gluten-free vegan recipes at that! The vegan recipes aren't HH-approved, they use nuts and all-purpose flour, but I've been able to adapt several. What I do like is all the interesting flavor combinations like "beet and brown rice," "tofu and chard" and "quinoa, red bean and walnuts." The book also comes complete with recipes for buns, side dishes and toppings like pickled onions.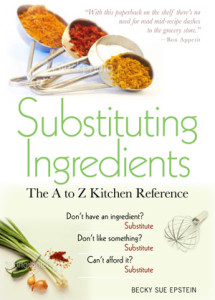 This is an interesting little book -- it provides options if you run out of ingredients. It's not vegan or even vegetarian-minded but I definitely think it's helpful if you're always running out of ingredients or you don't keep much on hand. I did have some issues with the book. For instance, it suggested substituting kale or chard for amaranth and since amaranth is like quinoa, that's not a good substitution! However, the book does have several substitutions for eggs I'd never heard of before and are much more "everyday" than typical egg replacer suggestions like flaxseeds or ener-g-egg replacer. The book also has a number of spice recipes that are wonderful.
Ahh.... I saved the best for last. This book came to me from the author himself! and it should go to the top of you must-read list!! To say this book is changing my life page-by-page is not an understatement. Bart's quotes are pure pearls of wisdom. I've been posting them all over my apartment. Anytime I feel discouraged or upset I open his book and like magic one of his quotes hits the nail on the head. Embracing these...messageshas really turned my attitude around. It's helped me sort of let go and stop worrying about things and embrace the life I'm living. "Since I can't always have the life I want, I enjoy the life I have." - Bart Potenza
and if YOU want to win some free HH e-cookbooks, see yesterday's post!