Baked Vegan Latkes
My friend Mark is the author of 30-Minute Vegan's Taste of Europe. Mark and I were both in Europe researching our books last year and almost (almost!) crossed paths in Paris.

Although his book is European, and my new book, Happy Herbivore Abroad, has a heavy European influence, I find they're very different (and equally awesome). Anyway, I'm excited to share an adapted version of one of Mark's recipes (he uses oil, but I rarely have problems omitting it in his recipes) *and* he's giving away TWO copies of his book to two lucky blog readers!
First, the recipe: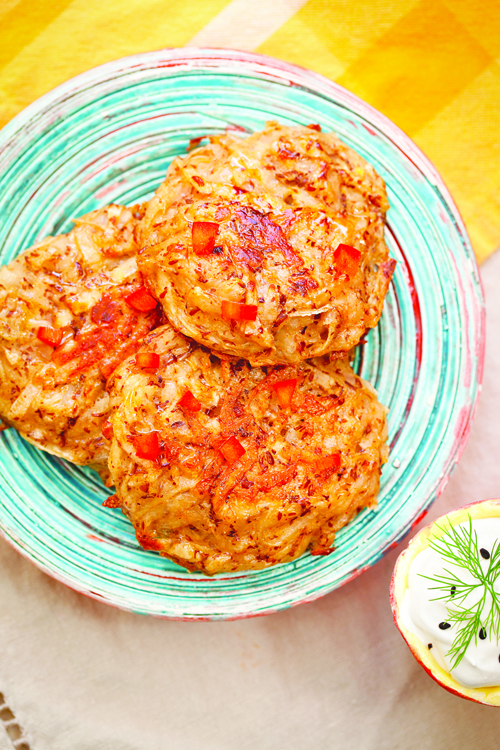 Baked Potato Latkes (makes 8)
1 large russet potato, peeled and grated (2 cups)
¼ teaspoon minced yellow onion
¼ cup plus 1 tablespoon white spelt flour
1 tablespoon ground flaxseeds mixed with 3 tablespoons water
¾ teaspoon sea salt
A pinch of crushed red pepper flakes (optional)
¼ teaspoon paprika (optional; try smoked)
1. Preheat the oven to 400°F. Oil a baking sheet well. [HH note: I would use parchment paper]. Place all the ingredients in a large bowl and mix well. You can speed this process up by using the grater attachment on a food processor for the potatoes.
2. Scoop about ¼ cup of the mixture for each latke onto the prepared baking sheet. Flatten to about ¼ inch thick. Bake for 8 minutes.
3. Flip the pancakes and bake until golden brown, about 8 minutes, before serving.
Now, the giveaway! (Limited to U.S. and Canada residents)
Giveaway closed! Thanks for entering! Winners will be contacted via email.
blog comments powered by

Disqus