Farms 2 Forks (Part 1)
Farms2Forks was amazing. Not only did I get to attend wonderful lectures by Dr. Essy, Dr. Campbell & Jeff Novick (AND do my own demo!) I ate wonderful food, met inspiring people (a few Herbies!!) and got to hang out with the entire Essy family -- from swimming with Rip in the pond, to dancing with his sister Jane up and down the aisles, to Ann making me banana ice cream and topping it with my new obsession: chocolate vinegar -- it was epic. I had a great time - and hope you enjoy all of the pictures! (Be extra jealous, I also had lunch and dinner with Colin and his lovely wife, Karen, and sat next to Essy during a few of the lectures. It's hard to be me sometimes ;))
Dinner the first night was E2 Lasagna which had broccoli in it (and I'm allergic to broccoli). So I sat there nibbling away at my kale, chatting with Colin when Jeff Novick (sitting across from us) asks "You're not hungry?" and I explain that I'm allergic. Jeff says, "Well I hate to put you on the spot but if you're not going to eat it..." I think that was the moment we became buddies. LOL.
On the upside, because I missed out on dinner, the head chef prepared me my own tray. TRAY. not plate (I win)
(Chocolate Mousse Dessert!)
Thanks again to the wonderful E2 family and FOK team for giving me such an incredible opportunity. I am humbled and honored.

Breakfast taco, oatmeal, & fruit from Day 1!
Kale Salad & Burrito for lunch from Day 1
Swam in this pond with the Essy family- it was beautiful!
Rip's Big Bowl for Breakfast Day 2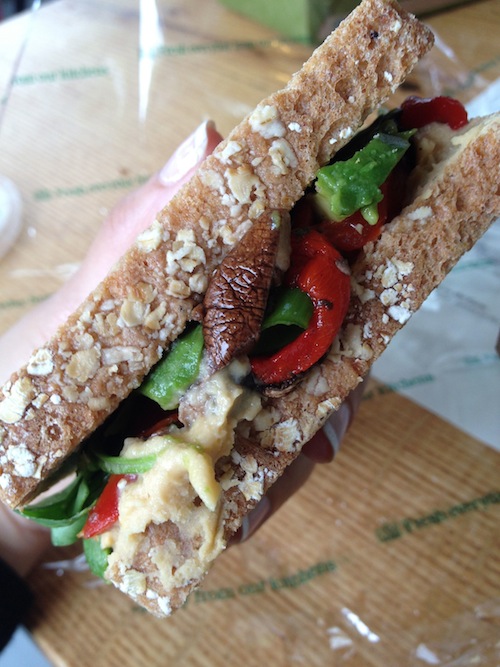 From Lunch Day 2!
Farms 2 Forks BBQ! E2 bbq loaf, green beans, tomato, corn and slaw
blog comments powered by

Disqus