Review Palooza + GIGANTIC Giveaway
**This giveaway is now closed. Thanks for entering! Winner contacted by email.**
It's that time again! In my last product review post, I mentioned how awful I feel that I get so many products and books for review and then I sit on them for months. I always have the best of intentions but.... alas.

I thought with the upcoming holiday season, now would be the best time to do reviews (and it'll clear my plate so I can maintain my 2013 resolution not to accept items for review).
Plus, you have a chance to win a boatload of FREE stuff! WINNER TAKES ALL. Yeah! (You can see what items are up for grabs in the reviews).

*Limited to residents in the U.S. (sorry!)




APS Berry Blast Veggie Protein
I accepted this product so my friend Jon could review it. Although I'm generally against protein powders (vegan or not), I respect Jon feels differently and was eager to get him off whey protein, at the very least. Jon liked these protein powders (he said they tasted good and mixed well in his shakes) and he used them until his supervisor insisted they were bad for him. It's an uphill battle some days...

Giveaway: The winner will receive the following — the French Vanilla and Berry Blast Veggie Protein (each 2 pounds). Please note that the Berry Blast will be shipped at a later date due to seasonal ingredients needed.

Good 'N Natural Fruit Bars
I was sent four bars. Two had oil in them, so I gave those away. The other two didn't but were so heavy in nuts that I couldn't eat them. Scott did and said they were pretty good, but nothing he wanted me to buy again.




SereniTea
If you like green tea, this might be a great product for you. You just mix the contents of a packet with water and voila! instant green tea. Scott and I both thought it was all right, but to be fair, neither of us are big into green tea, so we may not be the best person for an opinion. I did think it was a cool idea, though!

Giveaway: The winner will receive 20 boxes of mixed tea flavors.



Glory Foods
Glory Foods offered to send me pre-made vegan meals. After assuring me the meals were vegan and oil-free, I agreed to sample them. The products came and none of them were meals. Half were not vegan (contained dairy), and they were cans of buttery cinnamon apples. The other two were not really 'meals,' but canned vegetables. They didn't look appetizing at all — canned okra just isn't my thing, I guess, so I donated all of the canned goods to a local food bank...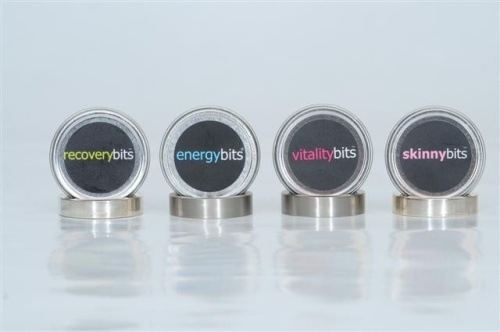 Algae Bites
I normally don't accept supplements but made an exception since this company wrote me a letter about how they're trying to end the food crisis (Now I think that was just marketing speak).
Anyway, I was initially put off by the literature that came with it — a letter saying that said since I was vegan, I knew how important it was for me to make sure I eat enough protein. Yeah, not so much. I could eat nothing but potatoes all day and meet my protein needs, thanks. (The protein myth and misinformation really makes me batty). Still, I let it go and reviewed the product materials more. It came in a container (think lip balm) with little pieces — like tic tacs. The problem I had was the accompanying literature said I had to gobble up dozens of these "tic tacs" in one sitting (every day) to reap the benefits... basically I'd have to eat the entire canister in one shot and buy one every day. This seemed so ridiculous. Here I thought I'd pop one and go once a day, not eat them all. Overall, it just left me feeling like it was a big rip-off. I did try a few, and didn't feel any different after taking them. After about a week, I gave up.
[Editorial note: it seems the company has changed their literature, and packaging, since I received my samples]



Sparkling ICE Samples
These drinks were so pretty! While they do have a sort of artificial sweetener taste to them, they don't contain artificial sweeteners. Scott and I loved all of the flavors, particularly the pineapple one. Sparkling ICE is naturally flavored sparkling water that contains zero calories, zero carbs, is gluten-free, and lightly carbonated. It's an excellent soda alternative!

Giveaway: The winner will receive a case (12 bottles) of their choice of drink.
Bee Free Honee
A Herbie emailed me asking for a good alternative to honey, something other than agave nectar, which s/he was allergic too and maple wasn't an option for other reasons. I asked Twitter for help, and several people responded mentioning this product. A few days later, an email bubbled up in my inbox asking me if I'd like to try it myself. How could I resist? Bee Free Honee is made from apples and it's delicious. I think it tastes more like apples than honey, but if you're looking for a vegan alternative to honey, this is it!

Giveaway: The winner will receive the following: 1 bottle (12 oz.) of Honee.

OMG! (Organic Meets Good)
Although I generally shy away from supplements (I have that whole, "get it from the source directly, don't eat supplements" mentality) OMG! is an LA-based company, and I figured I'd give it a try since I'm living in LA — support my local vegan businesses! I can't begin to say how impressed I am with OMG! as a company: the CEO hand-delivered the samples to my door and stopped to talk to me for a while. You just don't get service like that anymore. (I also sent him home with a copy of HHC). Since I don't drink smoothies anymore, I wasn't sure how to use these supplements, until I saw a pancake recipe on the back of the package — SOLD! (The recipe was also vegan and oil-free, which I so appreciated). I ended up giving the supplements to my friend Jon and he loves them.

Giveaway: The winner will receive 1 of the flavors (Pomegranate or Maqui Berry).


Mini Pops
Mini Pops are like mini popcorn (they taste like popcorn and look like mini popcorns) but they're made from popped sorghum grain instead of corn, so they're certified gluten-free, certified organic, corn free, and certified kosher. All sorghum for Mini Pops is also farmed in the USA. Although Mini Pops offers a number of flavors, only the "plain" was oil-free, so that's the sample I tried. Scott's never been a fan of popcorn because "it gets stuck in your teeth" (his words) but since these were so small, he didn't have that problem. We liked them, but aren't popcorn people in general, so it's probably not something we'll buy again.

Giveaway: The winner will receive a No-Cheese Sampler.


Core Foods
First, I must compliment their customer service. Core Foods had sent the bars to me for review, but USPS never updated the tracking information online, which meant the bars were in my mailbox for several days unbeknownst to me. When I went to my mailbox to pick something else up, I noticed the bars were there, along with perishable stickers all over the package. I immediately emailed Core Foods asking if the bars were still safe. They said I should throw them out to err on the side of caution, but sent me another package, which was so generous of them. Anyway, the fat content (from nuts and seeds, they are raw and oil-free) was too high for my sensitive stomach, but my friend Lisa's kids loved them and said they were very filling. I think what I like most about them is that you keep them in the freezer, grab them on the way out, and in 10 minutes they're ready to be eaten. Great for on the go if you can eat a diet high in fat!

Giveaway: The winner will receive Raw Almond Raisin Defender Meal; Raw Cashew Cacao; Raw Walnut Banana.




Galaxy Global Shreds
I'm not much of a faux cheese eater. I never really liked cheese and I generally shy away from substitutes because they can be so processed and contain oil and other ingredients I avoid. Still, I knew Scott would never have forgiven me if I didn't accept these samples, especially since Galaxy has a "Mexican cheese" blend, which was Scott's absolutely favorite type of cheese to buy when he was a vegetarian. Scott gives both the Mexican blend and Mozz a thumbs up, saying if you like Daiya, you'll definitely like these cheeses. (I didn't try either cheese).

Giveaway: The winner will receive 2 GO Veggie vegan shreds — Mozzarella and Mexican flavor.
Healthy Surprise
Healthy Surprise delivers snacks to your door monthly. When Healthy Surprise emailed asking me to do a review, I asked if their snacks contained oil. They assured me their snacks did not contain oil, so I was pretty disappointed when most of the snacks we got contained oil. The snacks that didn't have oil were packets of nuts or seeds, which I can't eat, so I sent all of it to Scott's work for his coworkers to enjoy. The only item I could have was the dehydrated apple slices, which were okay, but not great. If you eat a lot of nuts, seeds, and oil, this might be a good option for you if you need snacks delivered to your office. It seemed like too much food for a household.


I Love Trader Joe's Vegetarian Cookbook
This cookbook's recipes only use ingredients found in a Trader Joe's, which is pretty cool. The one thing I really like about this book is although it is "vegetarian," it explains how to adapt any recipe to be made vegan. Some of the recipes are healthy, some are not. Most use oil, but I don't see why you couldn't omit it. If you're a college student (or shopping for one) and you have access to a Trader Joe's, this is a great cookbook option for you.

Giveaway: The winner will receive a copy of I Love Trader Joe's Vegetarian Cookbook.


The Burger
When the PR company told me this book had "great options for veggie lovers" I was skeptical thinking maybe it had a side of potato salad. Shame on me. Not only does this burger book have vegan and vegetarian side recipes, some of the burgers are plant-based, oil-free, and quite innovative! I'm not sure the small veggie collection would warrant buying the entire book for a vegan or vegetarian, but I certainly appreciated the inclusion. I haven't had the chance to try any of the recipes yet, but it's one of the few books I received for review that I found myself wanting to try the recipes in my downtime (if that ever comes). It's also a really cool book to look at with wavey pages and fun "comic" graphics.

Kicking Cancer in the Kitchen
I like the idea of this book — a guide to beating cancer, but was disappointed some of the recipes contain animal products (perhaps the author hasn't heard of The China Study) and most, if not all, the recipes use oil. Sure, oil isn't as cancer-feeding as animal products, but it's no health food. I was expecting really clean, extra-healthy, and mostly raw recipes, I guess. That said, the recipes only make up a small section of the book, so unless you're shopping for someone who (unfortunately) has cancer, I'm not sure I'd recommend the book as a gift.

Giveaway: The winner will receive a copy of "Kicking Cancer in the Kitchen."



Veggies for Carnivores
As a disclaimer, one of my pet peeves is when someone refers to humans as carnivores. Humans cannot be carnivores, it's impossible. That said, I'm not sure this book lives up to its title. My extended family fits the "carnivore" (meat lovers) description well, and these are not the kinds of dishes they'd be willing to try. I guess I was expecting a book with recipes that would help a meat eater open up to more veggies. It's a slim book, about a quarter the size (or smaller) than any other cookbook. It also feels very much like a homemade, self-published work. I hate to say unpleasant things about this book because the author emailed me personally and was very nice, but I wanted to be honest about what to expect. The book does have some oil-free recipes, but most of them contain oil, and a good bit of it. There are a lot of raw recipes, however, so if you're looking for that it could be a good choice — if you don't mind that it's not polished book.
Giveaway: The winner will receive a copy of "Veggies for Carnivores."



Cooking Light - The New Way to Cook Light
I used to subscribe to Cooking Light magazine, so I accepted their new cookbook for review. It's a big and heavy book — it makes any other cookbook look tiny. Although this is not a vegan or vegetarian book, it has icons throughout that indicate vegetarian (not vegan) fare. Except for the meat-centered sections (i.e., "Fish & Shellfish," "Meats," "Poultry," etc.) you can find a good bit of vegetarian (not vegan) recipes. I also must applaud the book for encouraging readers to "eat less meat" in the first pages. Vegetarians will find many options in this book, though not necessarily healthy — plenty of butter, eggs, mayonnaise, cheese, and oil. Vegans will find even less, unless they stick to the salads, soups, and appetizer sections. The food is pretty (magazine-like photos throughout) and some ideas are innovative, but overall I wouldn't consider it healthy. Lower in calories doesn't automatically mean it's good for you. Nutritional info for each recipe is provided.

Wild About Greens
I'm a total greens junkie. I try to eat them at every meal, but I make sure to have greens at least twice a day. I'm usually pretty lame about it I steam them and sprinkle with Cajun seasoning, Old Bay seasoning, or nutritional yeast -— or I eat them raw in a salad with some kind of dressing from EHH or salsa. (I love salsa as a dressing). In other words, I was pretty excited to get a book (an entire book!) dedicated to recipes that use greens in more ways. Although Nava uses oil, I've had no problem removing it when I make her recipes. The book has smoothies, soups/stews, grain/bean dishes with greens, and salads (plus dressings).

Giveaway: The winner will receive a copy of "Wild About Greens."



Eat & Run
Eat &Run is elite vegan ultramarathoner Scott Jurek's memoir. If you're unfamiliar with Scott, he's won all major ultramarathons, which are any races longer than a traditional marathon of 26.2 miles and are often over 100 miles. Scott also holds the U.S. record for the most miles run in 24 hours: 165.7! Who says vegans can't be elite athletes?

The book traces Scott's gradual transition from a meat-and-potatoes kid to a McDonald's-obsessed co-ed to a vegan, with some of his recipes mixed into the text. A lot of his recipes use oil (but you can leave it off) and others use ingredients I don't normally keep around (i.e., Kombu seaweed, dried epazote powder (what is that?) and expensive specialty ingredients), but there are some oil-free, down-to-earth recipes, too. I think the seller of this book is the memoir part, which any runner will find motivational and inspirational.

Giveaway:The winner will receive a copy of Eat & Run.



The Vegetable Diet
I don't get this book at all. It looks like a really old book (complete with golden bible-like pages), so that's kind of neat but otherwise... There are no recipes. It's just page after page of textbook-like text. It's like reading a treatise.

Giveaway: The winner will receive a copy of "The Vegetable Diet."



The 80/10/10 Diet
I first heard about this diet two years ago when I wanted to try raw but without the nuts, seeds, and high-fat foods. I was intrigued by the idea — fruit! fruit! fruit! I don't know why I never tried it back then — maybe I couldn't afford all the fruit, but I was excited to read the book when a review copy came in the mail. I will admit that the book made a compelling argument, but overall, I didn't think the 80/10/10 diet was really practical for me. I do have a friend that's been 80/10/10 for a few years and he loves it and is thriving, but I love potatoes too much. And kale. And beans. And rice. And I just feel better when I eat those things. The Starch Solution still remains my solution, but I did appreciate the wealth of information in this book, a lot of which aligned with Dr. McDougall's recommendations.

Giveaway: The winner will receive a copy of "The 80/10/10 Diet."



Cooking with Love
I fell in love with Carla when she was on Top Chef and appreciated that many of the dishes she made on the show were vegetarian. I've watched her career go and cheered her on — she's such a fun-spirited woman. I was particularly excited to receive her book and while there is a lot of meat in it, she does have many vegetarian recipes and some can be vegan. Like most celebrity chefs, she does use a lot of oil and other unhealthy ingredients, but not nearly as heavily as others, which leads me to think many of her recipes could be the inspiration for a healthier plant-based dish. I wouldn't recommend this book for a health-conscious, plant-based eater, but it might be a choice for flexitarians.

Giveaway: The winner will receive a copy of "Cooking With Love."



NBW Lotion
I'm not sure if it's my skin type, diet, or climate, but I've never really needed to use lotion or moisturizer, except when I'm in a really cold climates and the place I'm staying at has radiators blasting, or I shave my legs. I always seem to need lotion after shaving, so when NBW offered to send me a sample for my review, I thought I'd give it a go. I love the light scent of their summer lotion (their products change with the seasons) and how clean it feels and applies. NBW is a natural, organic, ethical, Canadian body care company that makes a full line of cleansers, lotions, scrubs and other essentials; most of which are vegan-friendly. Everything they make is petroleum-free, organic, and vegetable-based. I HIGHLY recommend!



Soyabella
Scott and I were both really excited to receive this. I loved the idea of making my own soymilk. Problem was I didn't have luck finding soy beans (suitable for making soymilk) in the bulk bin at my local store, or any store. I found them online, but I'd have to buy a lot of them in bulk. I didn't really want to take on that kind of financial commitment (or big purchase) without knowing if I liked homemade soy milk or not. I just wanted to get some beans to try it out... Having no luck, I opted to donate the maker for a charitable auction and never used it.


Halo Vegan Garden Medley for Dogs
Halo, Ellen DeGeneres' pet food company, developed a vegan dog food formula. Although the pugs love V-Dog, I was happy to accept a sample. The problem is, you're not supposed to just change out a dog's food. You're supposed to mix a little new with the old, and work your way up. By the time I would have been able to work my pugs up to that, I'd have been almost out of the sample and it wasn't sold locally so I couldn't keep them on it, or take them back off it gradually. I ended up putting a little in the pugs bowls for a snack and they seemed to like it. Even though I love Ellen, my pugs are so happy with home-cooked meals and V-Dog (when we travel, etc.) that I don't think I'll change their food.

Giveaway: The winner will receive the following: a bag of the dry vegan food, a couple of big cans of vegan canned food, and some vegan pumpkin chews.



ArcaNatura vegan pet products
ArcaNatura sent us a product you spray on dogs' food — which did not go over well with the pugs. They also sent a shampoo that was fine. They liked it and it left their coat feeling and looking great, but no better than what we usually use. I did, however, like that the company is eco-friendly and vegan. Perhaps when the shampoo runs out we'll buy from them again.
-----------

Contest is over.